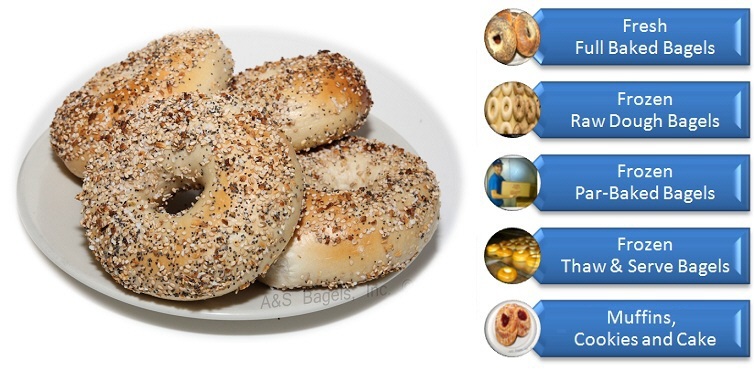 Plain
Cinnamon Raisin
Pumpernickel
Sesame Seeded
Everything
Multi-Grain
French Toast
Poppy Seeded
Whole Wheat
Onion
Rye
Garlic
Bagel Twists
Mini-Bagels
Bagel Flats
Blueberry
St. Patrick's Day "Green Bagel"
Salted
Party Bagel
Brownies
Chocolate Chip Cookie
Mini-Muffins
French Toast Bagel

Additional Items..

Sun-Dried Tomato Bagels

Chocolate Chip Bagels

Marble Bagels

Rainbow Cookies

Apple Turnovers

Cheese Danish

Pre-Sliced Bagels

Jalapeno Bagels

Rolls

Heroes

Chocolate Chip Cookies

Crumb Cakes

Assorted Fruit Danish

A&S Bagel Types

Fresh Baked Bagels: We deliver fresh baked bagels everyday across Long Island and New York City. We can pre-slice the bagels for you. [Read More]
Par-Baked Bagels (Frozen): Par-Baked bagels are boiled and lightly baked. Par-baked bagels are delivered to you ready to eat, however, we suggest to you to bake them off in an oven for a few minutes to serve hot golden brown bagels. Ideal for coffee shops, bakeries, supermarkets and small bagel stores. We distribute our Par-Baked bagels throughout the country. [Read More]
Thaw and Serve Bagels (Frozen): Thaw and Serve Bagels are fully baked bagels that are delivered to you frozen. Simply thaw them out to room temperature and serve your customers an award winning bagel baked in New York. Ideal for coffee shops, bakeries, supermarkets and small bagel stores. We distribute our Thaw and Serve bagels throughout the country. [Read More]
Raw Dough Bagels (Frozen): We ship out our raw dough shaped as bagels in the frozen state to you. You can bake them off in your store or bakery. This product is ideal for bagel stores, supermarket bakeries and bakeries. We distribute our raw dough bagels throughout the country. [Read More]

For our wholesale customers interested in learning about our Kosher bagel program, please e-mail us at bagelmail@aandsbagels.com
A&S Bagels, Inc.
761 Hempstead Turnpike
Franklin Square, New York 11010
Open 24 Hours a Day. Open 7 Days a Week.
Telephone: (516)326-9288
Legal Notice: By viewing, visiting, using, and/or accessing this web-page and/or web-site, you are bound to certain terms and conditions. You can read said terms and conditions by clicking here. The materials on this web-site are protected by copyright. All rights reserved. ©1985-2018.