A&S Bagels Timeline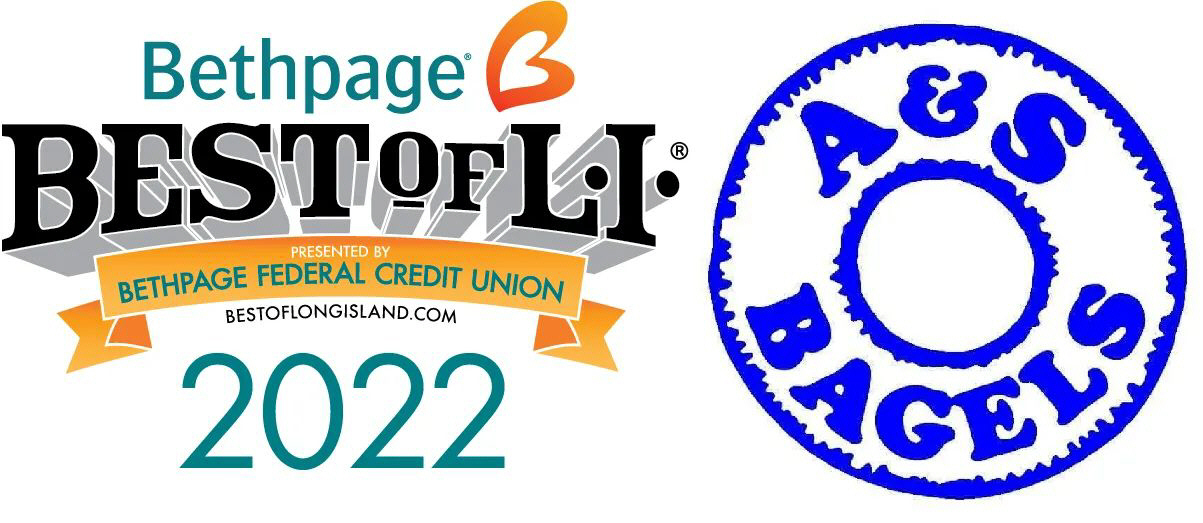 2022: In 2022, A&S Bagels won Best Long Island Bagel Shop in the Best of Long Island Poll.

"Many Long Islanders have a favorite bagel shop and they will waste no time defending their choice against anybody who dares to claim another bagel shop is best. But, asked to select their favorite bagels on Long Island, voters selected A&S Bagels more than any other."

Source: https://www.bestoflongisland.com/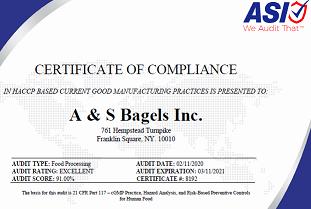 2020: We are pleased to announce that A&S Bagels scored a 91% on its 3rd party food safety audit (cGMP). The audit was conducted on February 11, 2020. The auditor was ASI. You can view our Certificate of Compliance in HACCP Based Current Good Manufacturing Practices in PDF format by clicking on the link.

2018: September 20, 2018, News 12 Long Island featured A&S Bagels and our French Toast Bagel, Rainbow Bagel, Birthday Cake Cream Cheese, and other specialties.

You can view the clip on News12 web-site by clicking below: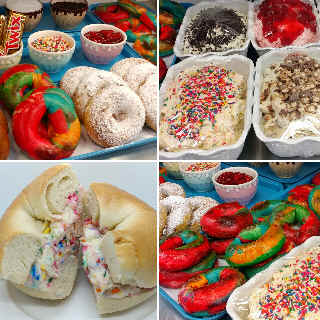 Also in 2018, A&S Bagels was featured in "Long Island Weekly." In the article, Steve Mosco wrote "All of the bagel greatest hits are at A&S, including plain, everything, poppy, sesame, garlic, onion and salted—with a few more unique variations like jalapeño and French toast. They also offer the classic bacon, egg and cheese on any of their exquisite bagels, while also churning out their own cream cheese concoctions like veggie, lox and cinnamon raisin walnut."

To read the article click to: http://www.longislandweekly.com/behold-the-bagel/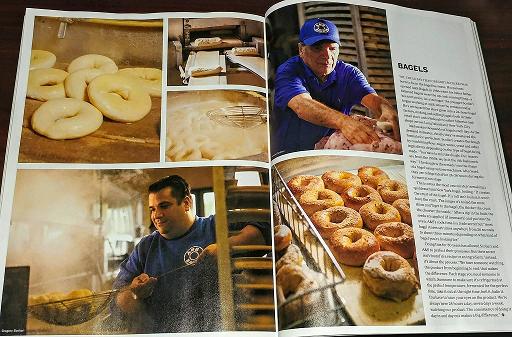 2017: In the November 2017 issue of the Long Island Pulse Magazine, there was an article featuring A&S Bagels. The article is entitled "Flour, Water, Magic" and is written by Andrew Sheldon. The photographer of the piece was Adam Weiss. The link to the article is:

http://lipulse.com/2017/10/23/long-island-food/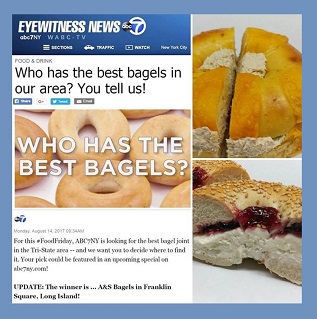 2017: In August 2017, our customers, fans, and supporters voted us "best bagel joint" via a poll taken on Channel 7 ABC's facebook page.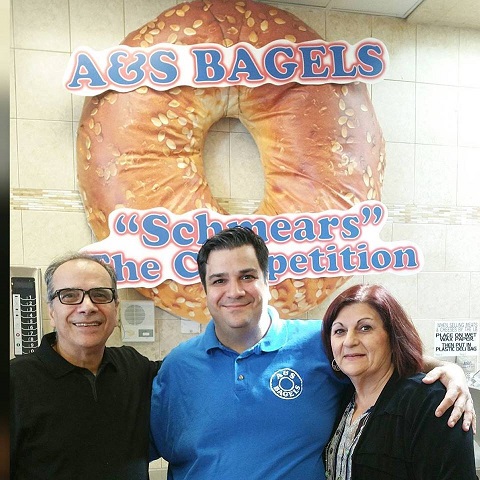 2016: In March 2016, A&S Bagels was presented from the Town of Hempstead a 5 foot bagel commemorating the bagel store's achievement of being ranked in the top 20 bagel stores in the country.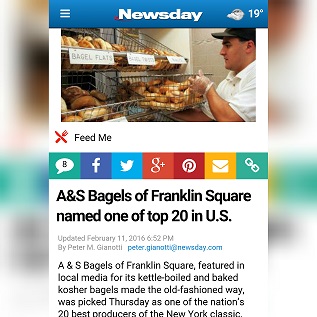 2016: Multiple media outlets cover A&S Bagels being recognized as a top 20 bagel store in the country.

1. "A & S Bagels of Franklin Square, featured in local media for its kettle-boiled and baked kosher bagels made the old-fashioned way, was picked … as one of the nation's 20 best producers of the New York classic." Source: Gianotti, Peter, "A&S Bagels of Franklin Square named one of top 20 in U.S." Newsday.com (February 11, 2016).

2. "A&S Bagels in Franklin Square made the list for top 20 best bagel shops across the country in a study conducted by MSN.com. The 24/7 bagel shop on Hempstead Turnpike is making its presence known." Source: Sleem, Seena, "Franklin Square bagel shop makes list for best bagels in the country." FIOS1News.com (February 12, 2016).

3. "It's no secret that New York has some of the best bagels in the country, but one Long Island bagel shop is getting some national recognition." Source: "Franklin Square bagel shop gets national recognition." NEWS12.com (February 10, 2016).

4. ""A & S Bagels operates a 24/7 retail store where customers can stop in anytime and select from a huge variety of bagels, from plain, poppy, and sesame to French toast pumpernickel, and more." Source: Beyer, Monica (Cheapism.com), "20 of the Best Bagel Shops Across the Country." MSN.com (February 8, 2016).

5. "Reviewers on TripAdvisor warn that there's often a line, but it's definitely worth the wait." Source: Beyer, Monica, "20 of the Best Bagel Shops Across the Country." cheapism.com (February 8, 2016).

2015: Franklin Square Race Car Driver, Brendon Bock had a Kidsday article written about him by Kidsday reporter, Shannon Bock. A&S Bagels is a proud sponsor of Brendon Bock. Source: Bock, Shannon, "My cousin, race car driver Brendon Bock." Newsday.com (July 16, 2016).

2014: "[R]eporters Tara Conry and Amy Onorato spent Wednesday, Dec. 10, 2014, racing to find the best bagels stores across Long Island. Conry took the South Shore, starting in East Hampton. Onorato navigated the North Shore, and started in Southold. They are both visited 15 bagel stores from East to West, and met at the finish line - A&S Bagels in Franklin Square." Source: Great LI Bagel Race, Newsday.com (December 10, 2014) @ http://live.newsday.com/Event/Great_LI_Bagel_Race?Page=2. The December 10, 2014 video interview of Gregory Scolieri credited to Tara Conry from Newsday is available at Newsday.com.

2013: In the article entitled "Baking up Variety" by Jen Roth appearing in the April 2013 issue of Snack Food and Wholesale Bakery (available at http://www.snackandbakery.com/articles/86405-baking-up-variety), Gregory Scolieri discussed some of the innovative flavors offered at A&S Bagels. Here is an excerpt of the article:

"The A&S French Toast Bagel, prepared with a scrumptious crumb topping and generous amounts of powdered sugar, has been a great hit for us," says Scolieri. "Hot out of the oven, or with syrup or butter, the French Toast Bagel puts smiles on the faces of many people."

2011: The Muscular Dystrophy Association ("MDA") recognized A&S Bagels, Inc. as a Research Leader Benefactor. This recognition was given to A&S Bagels by MDA in grateful appreciation for leadership in support of MDA's mission to fight Muscular Dystrophy and related diseases.

2010: The Long Island Herald reported that "The Kiwanis Club of West Hempstead honored local businessman Antonino Scolieri, founder of A&S Bagels Inc. in Franklin Square, at its 15th annual dinner." The Long Island herald further reported that "A&S Bagels was chosen by the Z-100 radio morning show as Long Island's Best Bagel, and it was featured on the CBS morning news and on Fox 5 Good Day New York." You can read the complete article at: LIHERALD.COM

2009: In 2009, the Nassau Council of Chambers of Commerce awarded Antonino Scolieri, founder of A&S Bagels, the Franklin Square Businessperson of the year. Click here to view the list of winners.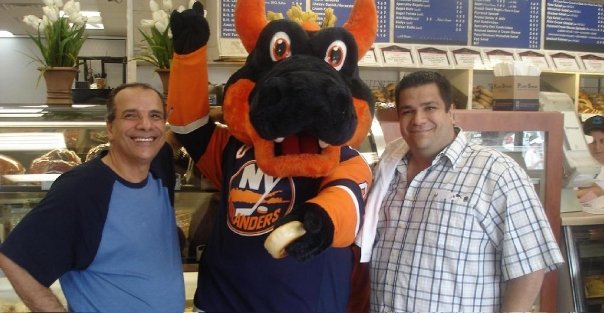 2009: A & S Bagels held customer appreciation day on June 13, 2009. During the event, Boars Head® and A&S Bagels gave away approximately 350 hot dogs to hungry guests. The drinks were provided by Snapple. We had special guest appearances by the New York Islanders Mascot, Sparky the Dragon, and Mario from Super Mario Bros. On display was an original custom chopper from Orange County Choppers.

2008: In 2008, Antonino Scolieri, founder of A&S Bagels, had the great honor of serving as the Grand Marshal in the annual Memorial Day Parade sponsored by the Franklin Square Veterans of Foreign Wars. Click here for more info about the event.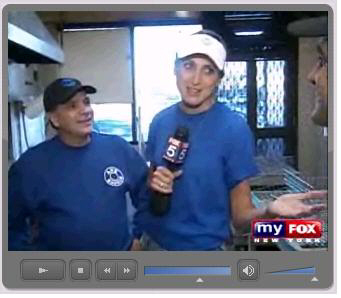 2007: Fox 5's Good Day New York and Vanessa Alfano televised their morning show live from A&S Bagels. Vanessa Alfano, a Features Reporter for Fox 5 took a tour of our retail and baking operations and aired several segments live throughout one morning. In the first few segments, Vanessa Alfano interviewed Anthony Scolieri about A&S Bagels' history. She sampled our French Toast bagel with crumb topping topped with powdered sugar. In the final segment, Vanessa Alfano interviewed Nino and Anthony Scolieri while touring the baking facilities. A&S Bagels would like to give a special thanks to the Fox 5 Good Day New York's camera and operations crew, Vanessa Alfano, Reid Lamberty, Craig Weissman and all our loyal customers for making the day one to remember.

Also, in a 2007 article entitled "The Best Bagels in Town?" written by Brian Clarey, the author wrote that "The bagels at A&S Bagels on Hempstead Turnpike, one of the touchstones of my teenage years, were magnificent affairs, as big around as a bread plate and so high they were almost spherical, the hole in the center pinched closed by the bread's sheer abundance." [Source www.yesweekly.com]

2006: In the September 22, 2006 Newsday article entitled "Life on the Night Shift," author Denise M. Bonilla explored Long Island's businesses and organizations that run through the night. A&S Bagels was one of the featured businesses. The following is an excerpt from the article:

"It's 1 a.m. and that means hungry crowds at A & S Bagel Co. in Franklin Square. Anthony Scolieri, one of the business' owners, is running around in a white apron and clear plastic gloves, alternately taking orders, directing workers and stacking slices of cold cuts on top of bagel slices."


Newsday's story was successful in showing that New York never sleeps. So when it is late, you know that you can always visit us at our retail store, which is open 24 hours a day, 7 days a week.

2004: A&S Bagels was also featured on the CBS television network. On February 22, 2004, CBS aired a Tony Tantillo Newscast in which he learned how to make bagels at A&S Bagels. He toured the retail store and the baking facilities and interviewed the Nino and Anthony Scolieri. Thank you Tony Tantillo for stopping by.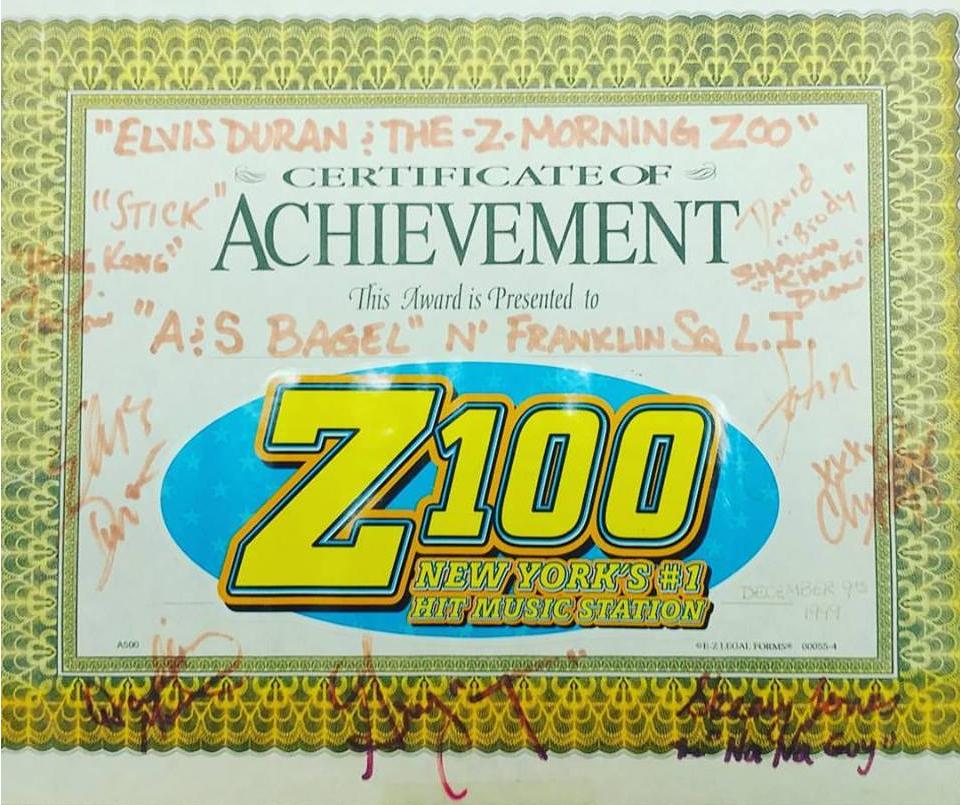 1999: On December 9, 1999 Z100- New York's #1 Hit Music Station-(100.3 FM), chose A & S Bagels as Long Island's Best Bagel. We would like to thank Elvis Duran and the Z Morning Zoo, along with the Z100 listeners for choosing us. Indeed, Z-100 is not the only radio show to mention our delicious bagels, we were also mentioned on the Howard Stern Show. A&S Bagels are baked in the traditional method of baking bagels. A&S Bagels are "water bagels" meaning that they are first boiled in a kettle before being baked.

1986: In march of 1986, A&S Bagels opens in Franklin Square, New York.

| | |
| --- | --- |
| Franklin Square, New York 11010 | Open 24 Hours a Day. Open 7 Days a Week. |
About A&S Bagels: A&S Bagels is located in Nassau County, New York on Long Island. A&S Bagels is a wholesale and retail bagel bakery.

Legal Notice: By viewing, visiting, using, and/or accessing this web-page and/or web-site, you are bound to certain terms and conditions. You can read said terms and conditions by clicking here. The materials on this web-site are protected by copyright. All rights reserved. ©1985-2018.