Wholesale Bagel Delivery Account Information
Founded in 1985, A & S Bagels has a proven track record for excellence in both product and service. We have supplied high-volume vendors in various capacities and with competitive prices. Our wholesale and commercial clients include bagel shops, food distributors, supermarkets, hotels, delis, educational institutions, country clubs and cafeterias. We offer many varieties and sizes to accommodate the needs of all our clientele.
A & S Bagels Inc. prides itself in providing superior service to our customers and distributors. We go beyond expectations to ensure our commitment to service is unmistaken.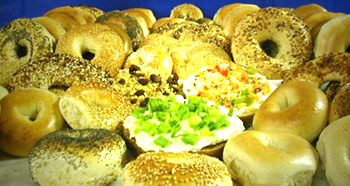 For Long Island bagel shops, bakeries, schools, delis, hotels and other food service institutions, we offer 7 day delivery service of our fresh baked bagels. Please call us at (516)326-9288 to arrange for deliveries.

Authentic New York Bagels are first boiled in a kettle and then baked in an oven, which is known as Kettle style.

A&S Bagels can arrange shipping, delivery and distribution to most parts of the United States. Our great tasting bagels have been enjoyed throughout New York, New Jersey, Connecticut, Nevada, Pennsylvania, Texas, Maryland, Washington D.C., Florida, North Carolina and other great states. If your organization or business is interested in starting a wholesale account, please contact us though e-mail at bagels516@aol.com

A&S Bagels are Kosher. For all your bagel needs, A&S Bagels makes a full line of bagels, including, full baked fresh bagels, full baked frozen bagels, frozen dough bagels and par-baked bagels. Just imagine how happy your customers will be. These delicious bagels are made in a variety of sizes and flavors.

A&S Bagels is a wholesale baker and supplier of New York bagels, including frozen dough bagels, full-baked bagels and par-baked bagels. Want delivery into Manhattan, bagels can be delivered into Manhattan. As is the case with most areas of Long Island, New York, New Jersey, Maryland, Texas, Pennsylvania, Philadelphia, Georgia, Ohio, Florida, North Carolina, etc. A&S Bagels is based out of Franklin Square, New York. The 7 day Long Island delivery service area includes Nassau and Suffolk counties on Long Island, including the Northshore, the Southshore, and cities such as East Meadow, Garden City, Carle Place, Woodbury, Valley Stream, Hempstead, Mineola, Melville, Westbury, Hicksville, Levittown, Freeport, Seaford, Massapequa, Bellmore, Valley Stream, Long Beach, Glen Cove, Rockville Centre, Syosset, Huntington, Bayside, Forest Hills, Manhasset, Whitestone, Commack, Brentwood and Riverhead; New York City (the five boroughs of Manhattan, including Wall Street, Downtown, Uptown, Midtown Manhattan, Brooklyn, Queens, the Bronx and Staten Island); and more.
A&S Bagels, Inc. proudly distributes our frozen bagel dough to bagel stores throughout the country. If you are planning to open a bagel store, please visit our Bagel Stores page. You can sell real NY bull bagels in your store. Bagels, just the way your customers want them.
We can arrange delivery for you.
E-mail us for more information at bagels516@aol.com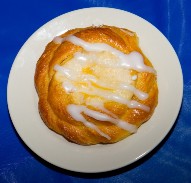 We make and bake more than just bagels. In addition to our bagel line, we make danish, muffins, cookies and cake. Visit our Baked Goods page.